One Piece & Flanged End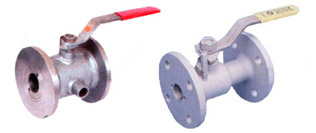 Note : Jaked Ball Valves avalible in Full Jacket & Half Jacket.
Design Std.
BS 5351
Testing Std.
BS 6755 PART-1. PRESSURE RATING ASME 150 / 300 & BS EQU.
Face To Face
DRILLS AS PER ASME 16.5 OR BS 10 TABLE "D", "E" AND "F". CLASS
150 AND CLASS 300.
Material of
Constriction
ASTM.A351. Gr. CF8,CF8M,CF3,CF3M, CN 7M(A-20) CD4MCU ,ASTM. A216 GR. WCB ,HEST B & C , MONEL
Seats & Seals
Virgin PTFE, Glass Fill, Carbon fill, Graphite, Reinforced PTFE AVAILABLE UP TO 4"
SIZE.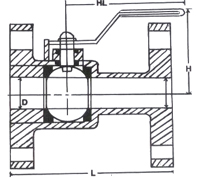 SIZE
D BORE
L LENGTH
H HEIGHT
HL HANDLE
1/2"
12.00mm
108
65
120
3/4"

14.30mm


19.05mm
117
65
142
1"

20.65mm


25.40mm
127
75
142
1 1/2"

31.50mm


38.10mm
165
110
230
2"

38.10mm


50.80mm
178
-
230
2.1/2"

50.10mm


63.50mm
145
174
380
3"

57.00mm


76.00mm
160
174
380
4"

75.00mm


101.00mm
185
200
495